WOHN EXCLUSIVE 4WD diesel manufactured by Towa Motors
EXCLUSIVE, the flagship model of Towa Motors' Vaughan, is now available.
Equipped with the rapid charging system "Evolution System", it adopts a unique charging system that can shorten the charging time by boosting charging.
Equipped with 2 sub-batteries of 100Ah lithium-ion battery, the lightweight and long-life battery is useful for comfortable sleeping in the car.
The total length is a generous size of 5.19m. Therefore, the room has a calm and relaxing space. Synthetic leather and the highest quality Belgian fabric are sewn together for the interior fabric.
Equipped with a high-speed charging unit of a different dimension, EXCLUSIVE provides a calm and comfortable interior space in every season of spring, summer, autumn and winter.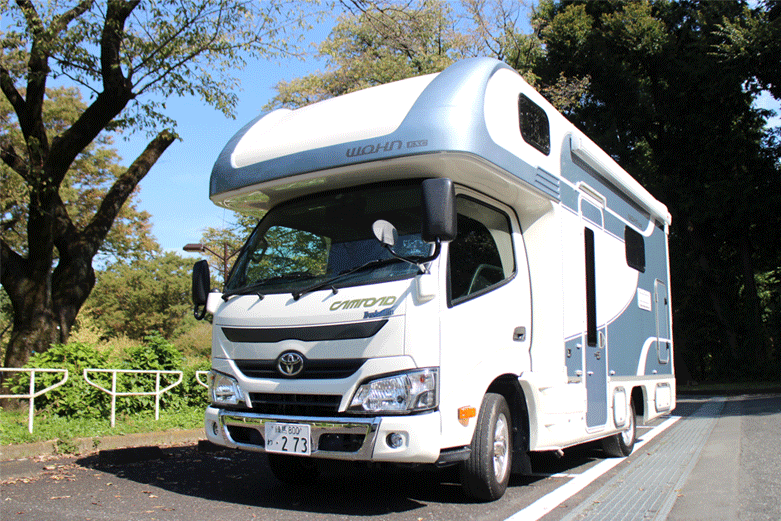 Price classification
1day
(24hour)
Return at 12:00
(+25%)
Return at 15:00
(+50%)
Return at 18:00
(+75%)
Season price
32,000円
+8,000円
+16,000円
+24,000円
High season price
38,000円
+9,500円
+19,000円
+28,500円
| | |
| --- | --- |
| The original car | toyota camroad |
| Shift / Fuel / Drive | AT/diesel turbo/4WD |
| Width of Vehicle | 2,080mm |
| Riding capacity | 6 people |
| Model year | 2018year |
| | |
| --- | --- |
| Engine displacement | 3,000cc |
| Length of Vehicle | 5,190mm |
| Height of Vehicle | 2,840mm |
| Sleeping capacity | 6 people |
| Vehicle total weight | 3,380kg(Ordinary license) |

Recommended point 1
Sub-battery system with lithium-ion battery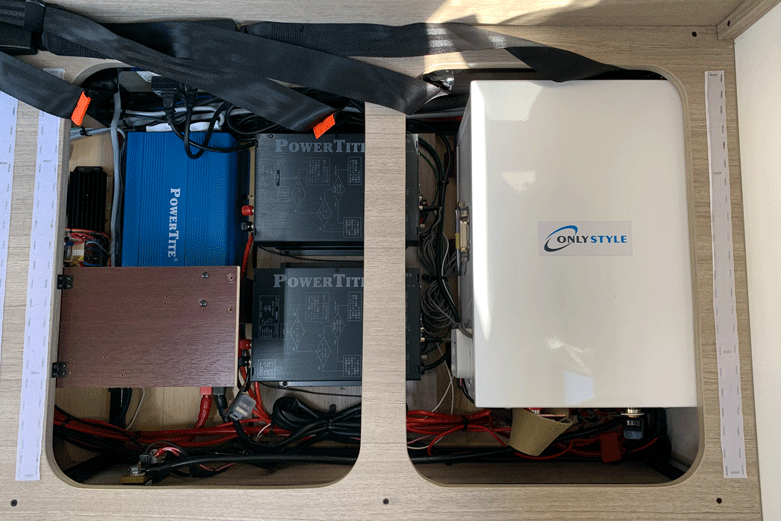 Lithium-ion batteries have five times longer life (2000 cycles) than lead-acid batteries, and are about half the weight.
You can expect stable electricity usage with a unique charging system that can shorten charging time with the rapid charging system "Evolution System" and a sub-battery with a long life cycle.

Recommended point 2
Home air conditioner available
Stable battery management with a quick charging system enables home air conditioners to operate for a certain period of time with only a sub-battery.

Interior/Exterior
※Click to enlarge
Check the vehicle on video
※Video in preparation

Facility details
| | | |
| --- | --- | --- |
| ETC | TV+BS antenna | hard disk car navigation |
| back camera | side awning | FF heater |
| large sink | 90L refrigerator | Indoor LED lighting |
| solar panel | microwave | home air conditioner |
| Lithium-ion sub-battery 100A x 2 | running charge | multi room storage |
| Fresh water tank (20L) | Drainage tank (20L) | 100V external power supply |