WOHN EXCLUSIVE 4WD diesel manufactured by Towa Motors
EXCLUSIVE, the flagship model of Towa Motors' Vaughan, is now available.
Equipped with the rapid charging system "Evolution System", it adopts a unique charging system that can shorten the charging time by boosting charging.
Equipped with 2 sub-batteries of 100Ah lithium-ion battery, the lightweight and long-life battery is useful for comfortable sleeping in the car.
The total length is a generous size of 5.19m. Therefore, the room has a calm and relaxing space. Synthetic leather and the highest quality Belgian fabric are sewn together for the interior fabric.
Equipped with a high-speed charging unit of a different dimension, EXCLUSIVE provides a calm and comfortable interior space in every season of spring, summer, autumn and winter.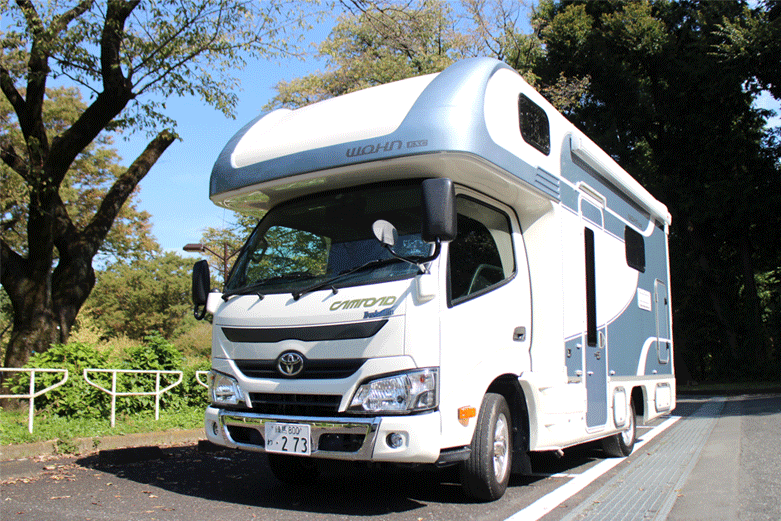 Price classification
1day
(24hour)
Return at 12:00
(+25%)
Return at 15:00
(+50%)
Return at 18:00
(+75%)
Season price
32,000円
+8,000円
+16,000円
+24,000円
High season price
38,000円
+9,500円
+19,000円
+28,500円
| | |
| --- | --- |
| The original car | toyota camroad |
| Shift / Fuel / Drive | AT/diesel turbo/4WD |
| Width of Vehicle | 2,080mm |
| Riding capacity | 6 people |
| Model year | 2018year |
| | |
| --- | --- |
| Engine displacement | 3,000cc |
| Length of Vehicle | 5,190mm |
| Height of Vehicle | 2,840mm |
| Sleeping capacity | 6 people |
| Vehicle total weight | 3,380kg(Ordinary license) |

おすすめポイント1
リチウムイオンバッテリーを採用したサブバッテリーシステム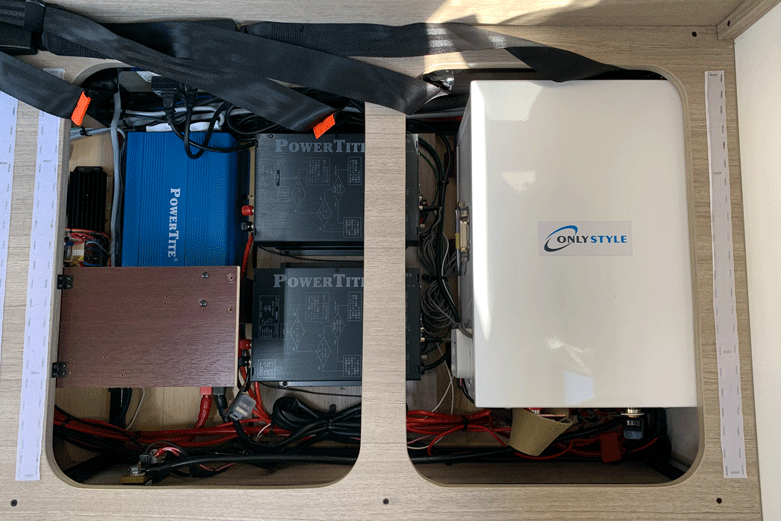 リチウムイオンバッテリーは鉛バッテリーに比べ5倍以上長寿命(2000サイクル)、且つ重量は約半分と軽量です。
急速充電システム「エボリューションシステム」で充電時間を短縮できる独自の充電システムと、長寿命サイクルのサブバッテリーで安定した電気使用が期待できます。

おすすめポイント2
家庭用エアコンが利用可能
急速充電システムによる安定したバッテリー管理により、サブバッテリーのみで一定時間家庭用エアコンの稼働が可能となります。

内装・外装
※クリックで拡大します

設備詳細
| | | |
| --- | --- | --- |
| ETC | リビング地デジTV+BSアンテナ | ハードディスクナビ |
| バックカメラ | サイドオーニング | FFヒーター |
| 大型シンク | 90L冷蔵庫 | 室内LED照明 |
| ソーラーパネル | 電子レンジ | 100V外部電源 |
| リチウムイオンサブバッテリー100A×2本 | 走行充電 | マルチルーム |
| 清水タンク(20L) | 排水タンク(20L) | ルームミラー内蔵型バックカメラ |