AMITY Rear Two-stage bet made by AtoZ No.1,No.2,No.3
"Amity" is the No. 1 compact cab con class in Japan.
Despite its compact size of 4,690 mm in total length, the flagship model that can seat 6 people and sleep 6 people is available.
With a bunk bed at the rear, it has made it possible to have a sleeping capacity comparable to that of a full-size cabcon.
It is also equipped with a wall-mounted air conditioner that can be used by supplying external power while the vehicle is stopped, making it a model that can be used comfortably regardless of the season.
(* The photo shows car 1.* Car 3 can only be delivered at the Higashisumida base.)
Price classification
1day
(24houe)
Return at 12:00
(+25%)
Return at 15:00
(+50%)
Return at 18:00
(+75%)
Season price
24,000yen
+6,000yen
+12,000yen
+18,000yen
High season rates
28,000yen
+7,000yen
+14,000yen
+21,000yen
| | |
| --- | --- |
| The original car | Mazda Bongo Truck |
| Shift / Fuel / Drive | AT/gasoline/2WD |
| Width of Vehicle | 1,950mm |
| Riding capacity | 6people |
| Model year | 2018year~2020year |
| | |
| --- | --- |
| Engine displacement | 1,798cc |
| Length of Vehicle | 4,690mm |
| Height of Vehicle | 2,770mm |
| Sleeping capacity | 6人 |
| Vehicle total weight | 2,390kg(普通免許) |

Point1
Enough space for adults to stand and move. The rear bunk bed is permanently installed, so setting at bedtime is easy.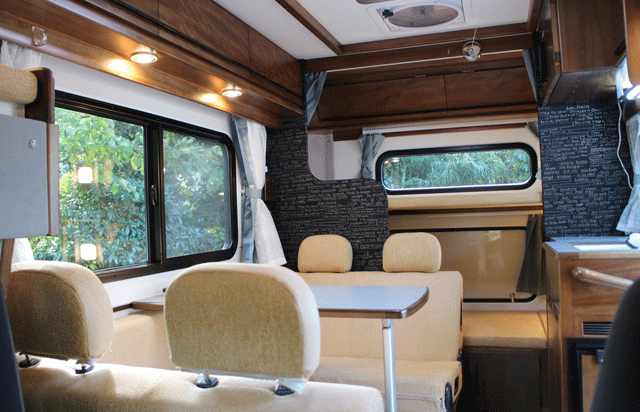 Despite its compact size, it can seat 6 people and sleep 6 people. (The photo shows car 1. The interior color of car 2 is different.)

Point2
When the bed is unfolded, it becomes one with the bunk bed and a large sleeping space can be secured.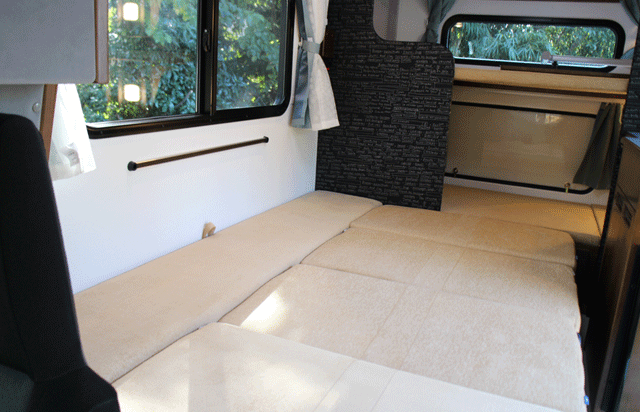 A bed of 1900 x 1280 mm just by unfolding the seat and inserting the submat (the photo is car 1)

Interior / exterior
※Click to enlarge
Check the vehicle with a video
※Audio will be played during playback.

Equipment details
ETC
Gas stove (cassette stove)
Side awning
8-inch tablet using navigation (free wifi)
Running charge
Interior curtain
sink
FF heater
Terrestrial digital TV
Sub-battery
(No.2 400A lithium)
(No.1,No.3 105A x 2)
Ceiling ventilation fan
Air conditioner for household windows (can be used when an external power supply is connected)
Water tank (10ℓ)
49 liter refrigerator (12V)
Microwave oven (can be used when connected to an external power supply)
Drainage tank (10ℓ)