AMITY Rear Two-stage bet made by AtoZ No.1,No.2,No.3
"Amity" is the No. 1 compact cab con class in Japan.
Despite its compact size of 4,690 mm in total length, the flagship model that can seat 6 people and sleep 6 people is available.
With a bunk bed at the rear, it has made it possible to have a sleeping capacity comparable to that of a full-size cabcon.
It is also equipped with a wall-mounted air conditioner that can be used by supplying external power while the vehicle is stopped, making it a model that can be used comfortably regardless of the season.
(* The photo shows car 1. Side awning is only for cars 1 and 3.)
(* Car 3 can only be delivered at the Higashisumida base.)
Price classification
1day
(24houe)
Return at 12:00
(+25%)
Return at 15:00
(+50%)
Return at 18:00
(+75%)
Season price
24,000yen
+6,000yen
+12,000yen
+18,000yen
High season rates
28,000yen
+7,000yen
+14,000yen
+21,000yen
| | |
| --- | --- |
| The original car | Mazda Bongo Truck |
| Shift / Fuel / Drive | AT/gasoline/2WD |
| Width of Vehicle | 1,950mm |
| Riding capacity | 6people |
| Model year | 2018year~2020year |
| | |
| --- | --- |
| Engine displacement | 1,798cc |
| Length of Vehicle | 4,690mm |
| Height of Vehicle | 2,770mm |
| Sleeping capacity | 6人 |
| Vehicle total weight | 2,390kg(普通免許) |

Point1
Enough space for adults to stand and move. The rear bunk bed is permanently installed, so setting at bedtime is easy.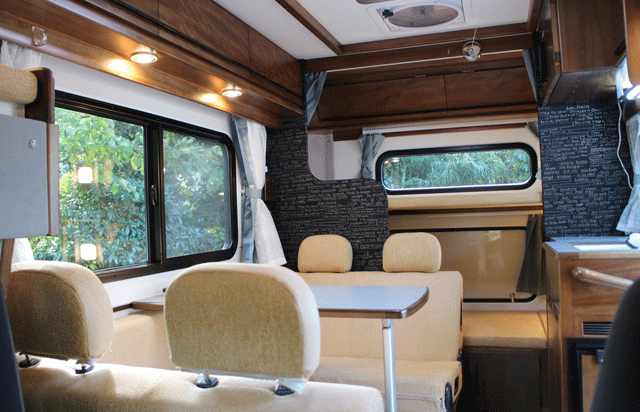 Despite its compact size, it can seat 6 people and sleep 6 people. (The photo shows car 1. The interior color of car 2 is different.)

Point2
When the bed is unfolded, it becomes one with the bunk bed and a large sleeping space can be secured.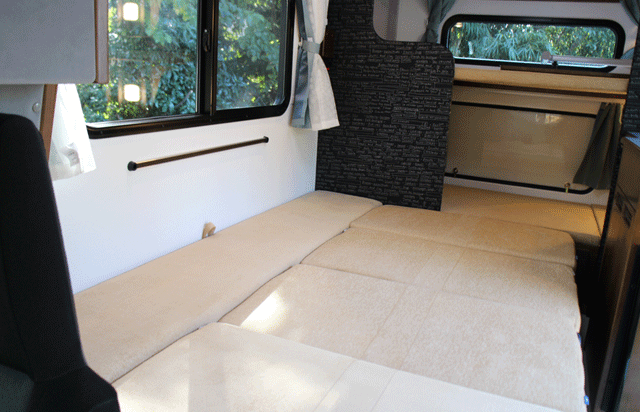 A bed of 1900 x 1280 mm just by unfolding the seat and inserting the submat (the photo is car 1)

Interior / exterior
※Click to enlarge
Check the vehicle with a video

Equipment details
| | | |
| --- | --- | --- |
| ETC | Gas stove (cassette stove) | Side awning (No.1,No.3) |
| 8-inch tablet using navigation (free wifi) | Running charge | Interior curtain |
| sink | FF heater | Terrestrial digital TV |
| Sub-battery (105A x 2) | Ceiling ventilation fan | Air conditioner for household windows (can be used when an external power supply is connected) |
| Water tank (10ℓ) | 49 liter refrigerator (12V) | Microwave oven (can be used when connected to an external power supply) |
| Drainage tank (10ℓ) | | |