Mini POP Bee made by MYS Mystic
A four-seater camper based on a light truck.
A pop-up roof that keeps the overall height low while driving and secures maximum space when spending time inside is adopted. The pop-up part is handled by a famous manufacturer with a long history in the United States, and the base vehicle is a domestic car that maximizes the advantages of the lightweight and rigid frame configuration, making it a safe and comfortable specification.
Even if it is "light", it is a lean car with a seating capacity of 4 people and a sleeping capacity of 4 people.
The basic rental location for this vehicle is "Higashi Sumida Base".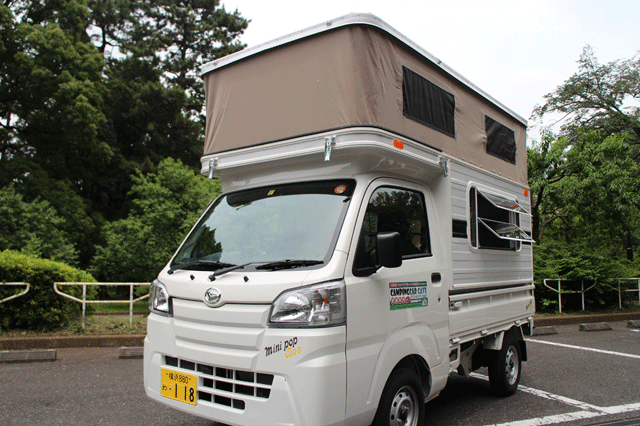 Price classification
1day
(24hour)
Return at 12:00
(+25%)
Return at 15:00
(+50%)
Return at 18:00
(+75%)
Season price
16,000yen
+4,000yen
+8,000yen
+12,000yen
High season rates
20,000yen
+5,000yen
+10,000yen
+15,000yen
| | |
| --- | --- |
| The original car | Daihatsu Hijet Truck |
| Shift / Fuel / Drive | AT/gasoline/4WD |
| Width of Vehicle | 1,470mm |
| Riding capacity | 4 people |
| Model year | 2018year |
| | |
| --- | --- |
| Engine displacement | 660cc |
| Length of Vehicle | 3,390mm |
| Height of Vehicle | 1,970mm(When driving) |
| Sleeping capacity | 4people |
| Vehicle total weight | (Ordinary license) |

Introduced in the video!
You can check the video of the equipment of this vehicle on [Bandy's YouTube channel "Bannoke"]. I'm going on a trip. (7 minutes 22 seconds)

Point1
Authentic American pop-up roof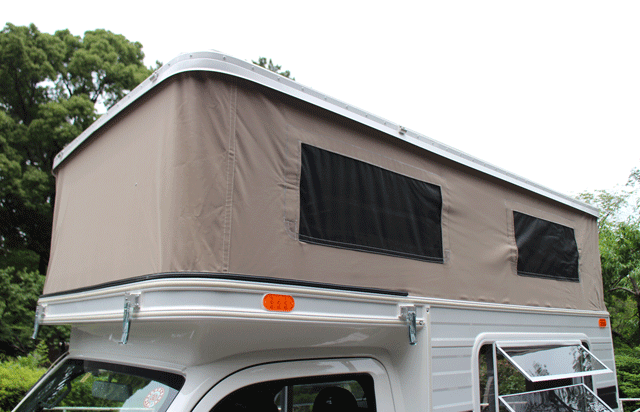 The ceiling can be raised by about 65 cm while the vehicle is stopped. This keeps the overall height low while driving and secures the maximum space when spending time inside. The ceiling height after popping up is about 185 cm.

Point2
It is possible to secure a full flat space even if it is light!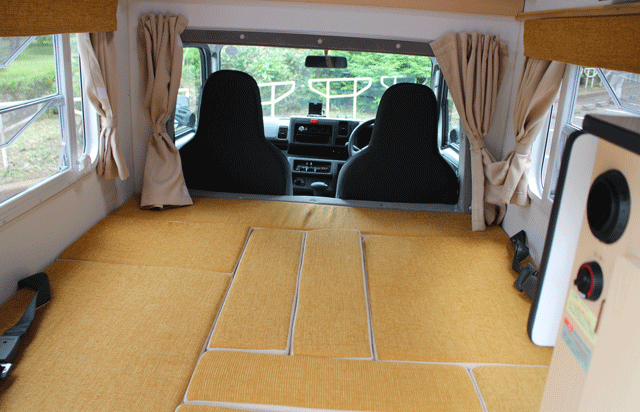 By unfolding the seat, it quickly changes to a full flat space of about 175 cm x 135 cm. It is large enough for two adults to take a rest.

Interior / exterior
※Click to enlarge

Equipment details
| | | |
| --- | --- | --- |
| ETC | Cassette stove | Interior curtain |
| Hard disk navigation | Running charge | External lighting (rear) |
| sink | Webasto FF heater | Spot cooler "Crecool 3" (can be used when connected to an external power supply) |
| Sub battery (1) | Ceiling ventilation fan | |
| Water tank | Pop-up fool | |
| Drainage tank | Window with screen door | |